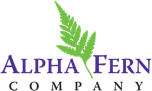 Thank You for Ordering!
Your purchase order has been sent. A member of the Alpha Fern team will get back to you shortly regarding your order within 2–3 business days.
Have questions or need to edit your order?
Please call (800) 313-8827 for more information or send us an email today.
back to home