It's no secret that flowers can brighten up a room and someone's day. Their vibrant colors and variety can be a statement piece in your living room or add character to your kitchen table, but you don't need to wait for a special occasion or holiday to have fresh-cut flowers. With some time and practice, you can create stunning bouquets of your own for your home or to give to friends and family.
Why wait for the next holiday? If you'd like to get started styling your own arrangement, there are some basic tips you can follow to make your own bouquets stand out.
Consider Flower Color and Contrast
When it comes to making your own floral arrangements, color is key! Complementary colors can create high contrast in bouquets by pulling together different hues from the opposite sides of the color wheel. Blue and orange, and purple and yellow are two basic complementary color combinations commonly used in color theory. You can think of green as a "neutral" color in flower arrangements since stems and leaves are naturally a part of any bouquet. Palmetto and cocculus are two kinds of foliage that are perfect, understated additions to add some depth and volume to your floral arrangement.
You can do a lot with colors in floral arrangements, but sometimes it's best to keep things simple! If you're just starting to create your own bouquets, you can start with two basic colors, like pink and red or red and orange. The more colors you add to your arrangement, the more you'll need to balance them out with other colors or neutral colors such as green or white.
The colors you choose can also depend on the room your flowers will be placed in or even the vase you'd like to use. Flowers can be a statement piece in a room or a subtle addition to it. So before you bring home any flowers or greenery, choose colors that you'd like to style and would work well.
Trim Stems and Excess Leaves to Prolong Freshness
We'd all love for our fresh flowers to look like we just put them in a vase for weeks! While we can't make our bouquets last forever, we can prolong their life.
Trimming the stems of your flowers as well as their leaves can help them stay fresh longer. You should trim the stems of your flowers diagonally when you first place them in a vase and every few days to keep them alive longer. And since leaves can fall off of the stem and spread bacteria to the water. But by trimming the stems and leaves, your water will stay fresher and cleaner for your flowers. Don't forget to change the water in your vase every few days!
Use Filler and Greenery to Round Out Your Arrangement
Filler can really help round out any bouquet or arrangement and add dimension to it. It also goes beyond baby's breath! Unique foliage and greenery add character and texture to a bouquet. Floral greens like eucalyptus add a lushness to your floral arrangement and can also help fill out a larger bouquet. And since green is a neutral color, floral greenery can help set off the flowers you've chosen for your bouquet.
Beyond eucalyptus, ruscus and salal leaves can add rustic charm to your arrangement. You can trim these greens and add them to your vase to help balance out your flowers. Greenery can be an arrangement on its own! At Alpha Fern, our Drop & Go bouquets like the Florida Fresh bouquet pictured below can stand on their own as statement pieces for any occasion. The varying shades and undertones of the foliage, as well as the different textures, create a multidimensional and lush arrangement.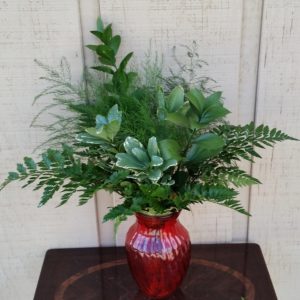 Brighten Up Your Bouquet the Easy Way
Flowers and bouquets are wonderful gifts and add pops of color to your home. And you don't have to break the bank to have your own beautiful arrangements. With the right colors, care and foliage, you can create beautiful floral arrangements for your home or for your friends and family.
At Alpha Fern, we offer time-saving solutions for arrangements, from our pre-greened foliage to our Drop & Go bouquets. Whether you've just started creating your own arrangements or are looking for new green additions to your vase, every one of our products is backed by quality! Create an Alpha Fern account today to browse our full selection of floral greens, garlands and wreaths.
Get Started and Shop Our Selections