Ready to take your bouquets to the next level? The secret to an excellent bouquet isn't in the flowers. It's in the greenery and how you arrange burst of floral color around it. Ferns are a visually stunning and timeless addition to any bouquet. In this quick guide, we'll break down how to successfully craft beautiful bouquets and pick the best ferns for your picture-perfect design.

What Makes a Good Bouquet?
There is much more to designing beautiful, memorable bouquets than adding bright colors and a pleasantly smelling array of floral scents. To create a good bouquet for special occasions, consider these style elements.
Variety
Don't just focus on one type of flower — or even one category of plants. Instead, look for a mix of large floral blooms, smaller flowers that can dot through the arrangement and delicate greenery that gives the bouquet shape and definition.
Harmony
While it's important to have multiple different components in your floral arrangement, you want each element to complement the others. Instead of choosing all bright and heavily saturated colors, for example, you might have deep red roses mixed with baby's breath. Alternatively, center your bouquet around a harmonious color scheme, such as neutrals or pastels.
Balance
A balanced bouquet is roughly (but not entirely) symmetrical and not unevenly weighted on one side or the other. For example, every large item in the bouquet, like a large flower, should be balanced out by at least one more similarly sized flower or similarly sized grouping of much smaller flowers. Also, you can strike a balance between variety (contrast) and harmony (matching elements) with a pleasing blend of greenery. 
Textures
A pleasing bouquet has more than an eye-catching array of different colors. It also has an interesting blend of shapes and textures. Ferns are an excellent choice for this, as their dramatic triangular shapes contrast nicely with flowers and broad leaves. Ferns also have a delicate, complex texture that frames the soft petals of more prominent blooms.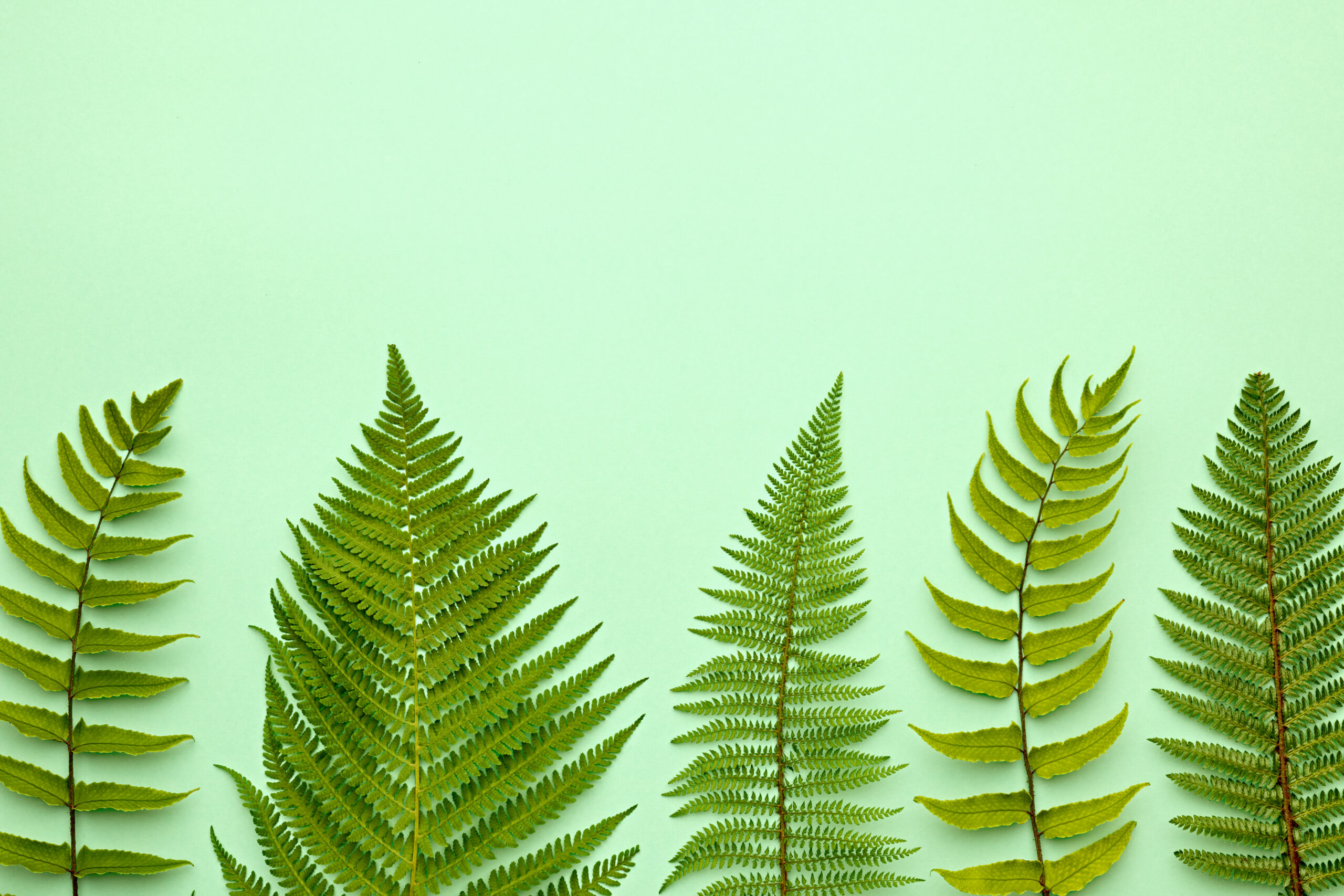 Best Types of Ferns for Bouquets
Different ferns have unique shades, leaf shapes, thicknesses, and longevity, which means they pair well with different types of flowers. Choose from these popular ferns for bouquets:
Cleopatra Fern/Fancy Fern (Dryopteris intermedia)
Cleopatra ferns are light green fillers that can add volume to any bouquet with their full, slightly serrated leaves. These ferns are wide, flat triangles with vibrant coloring. They can be used in wedding bouquets, decorative arrangements and more.
Coontie Fern (Zamia integrifolia)
Coontie ferns have a glossy green texture that makes bouquets vibrant and picture-perfect. The leaves are thin and long, so they can splay out to fill more two-dimensional bouquets and arrangements. Use these as a pleasant backdrop to shorter, colorful flowers.
Foxtail Fern (Asparagus aethiopicus)
Foxtail ferns get their name from their bushy, rounded appearance. They have a natural, woody look that can act as filler for rustic or natural floral arrangements. Foxtail ferns pair particularly well with wildflowers.
Holly Fern (Cyrtomium falcatum)
Holly ferns are light, airy ferns with long triangular silhouettes. They are nine or ten inches long and can be bunched together to create a fluffy, richly colored filler for your bouquet.
Leatherleaf (Rumohra adiantiformis)
Leatherleaf ferns have dramatic triangular leaves. Each individual stem is flat, so fill your bouquet with fluffed bunches and arrange to provide a rich three-dimensional texture. Leatherleaf ferns are a dark green that can balance out dramatic flowers with rich colors.
Maidenhair Fern (Adiantum)
Maidenhair ferns are a bright pale green that can work with a diverse array of flowers. The delicate, thin stems hold teardrop-shaped leaves that can give bouquets a fun, whimsical texture. Use maidenhair ferns for joyous occasions and holidays any time of the year.
Ming Fern (Asparagus retrofractus)
Ming ferns have tufts of bright green needles arranged along thin stems. The tufts almost look spherical, providing a lot of great texture in every bunch. They are an excellent filler for showcasing beautiful flowers while making the bouquet full and lush. Ming ferns can easily pair with a wide range of floral elements.
Asparagus Fern (Asparagus setaceus)
Asparagus ferns are texturally interesting ferns that have needly leaves along bushy fronds. They have a pleasant yellow-green color with a soft, airy texture. The stems themselves are long and have a graceful arc for creating whimsical arrangements.
Sprengeri (Asparagus aethiopicus)
Sprengeri ferns have bright green spiky-looking fronds that are surprisingly soft. You can arrange them sparsely to let small flowers shine or pack them together as a vibrant backdrop to large, vibrant blooms. 
Tree Fern (Cyatheales)
Tree ferns look like miniature trees, with sturdy stems and light, frothy fronds expand into a light, airy bundle of green. Pair this fern with delicate flowers and whimsical arrangements to pull the entire bouquet together.
Sword Fern (Nephrolepis exaltata)
Sword ferns are bright, tropical ferns that have a cheery green color and a sharp triangular shape. The fronds can range from 50 to 250 centimeters long and six to 15 centimeters wide, with slightly serrated edges. This fern is hardy and won't lose its color, making it an excellent choice for longer-lasting bouquets. Their vibrant coloring pairs well with dramatically colored roses, tropical flowers and bright lilies.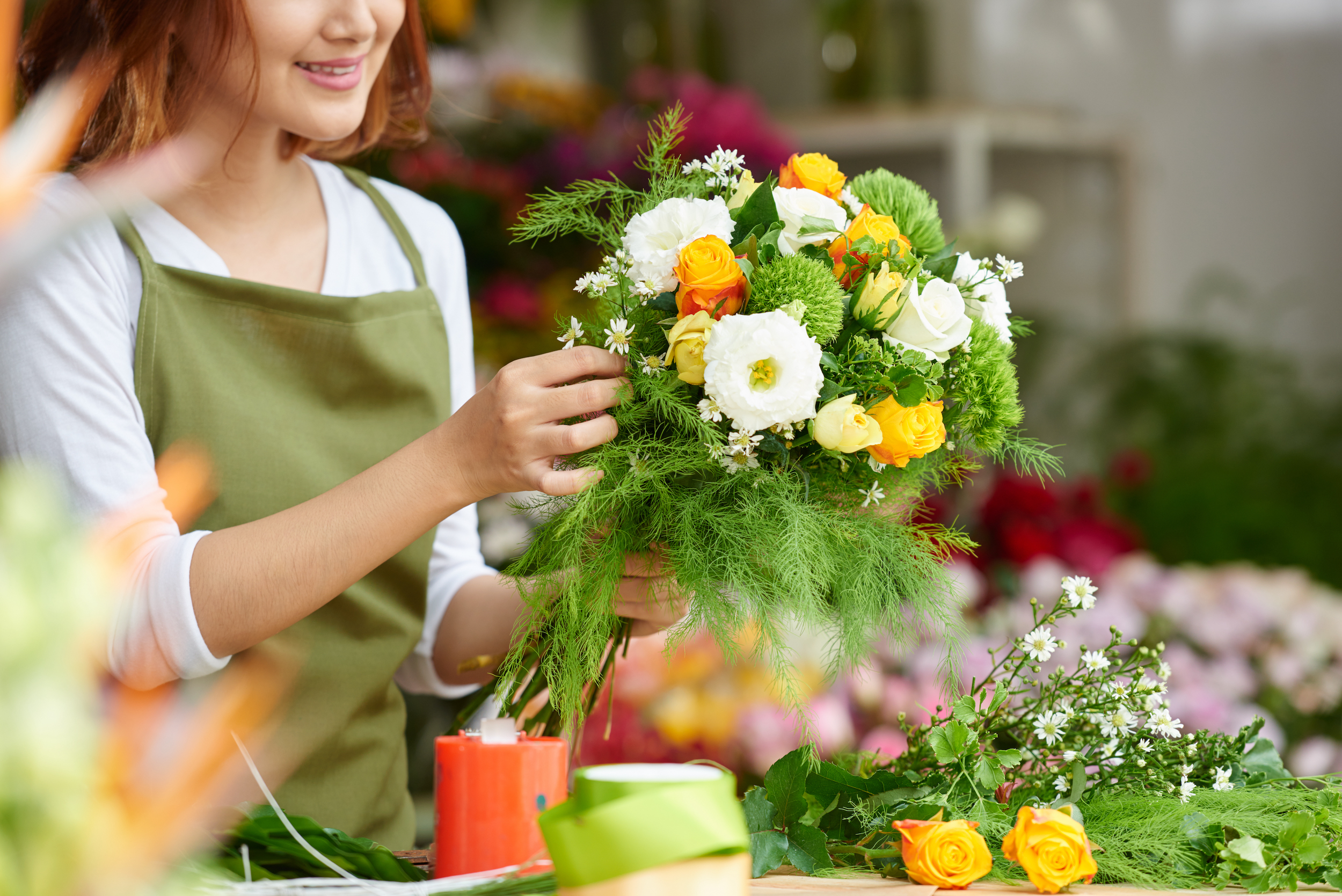 Bouquet Making Tips and Tricks
Now that you have your greenery, it's time to start creating your bouquet! Follow these quick tips and tricks:
Use ferns as your "white space":

Greenery is the

neutral backdrop

to your flowers. Use them to space out heavy, oversized, or highly colorful blooms, separate high-contrast elements and bulk up areas with small flowers.

"Fluff up" your ferns:

Greenery is a pleasantly lush, three-dimensional element. While you want your flowers to remain visible instead of hidden behind the ferns, ferns can still add drama by making your bouquet larger, more dramatic and more texturally interesting.

Vary light and dark tones in your bouquet:

Different ferns have different colors, and their thickness determines the shadows they create. So choose ferns that complement your flowers. Delicate flowers need delicate ferns, but robust flowers can dominate fragile greenery and need thicker or more richly colored ferns leaves.
Choose Alpha Fern Company for the Best Types of Ferns for Bouquets
At Alpha Fern Company, we provide our clients with fine, high-quality ferns and greenery for every occasion. Celebrate holidays, graduations, romantic dates and more with a beautifully designed bouquet that includes the recipient's favorite flowers and foliage. Browse our catalog, and contact us today to create an account.