Did you know that plants have an incredible ability to relax us? According to The Washington Post, plants can quickly improve our mood, increasing feelings of peacefulness and positivity. It's no wonder why we're often drawn to the whimsical allure of hanging foliage in our homes — and it's this innate love for being surrounded by greenery that presents an exciting opportunity for florists like you.
Today, we're sharing our expert insights on three types of whimsical decorations you can create using various types of hanging foliage that will leave a lasting impression. From ethereal wreaths to mesmerizing suspended mobiles and more, we're unlocking the secrets to expanding your offerings with stunning decor pieces your customers won't be able to resist.
1. Enchanting Wreaths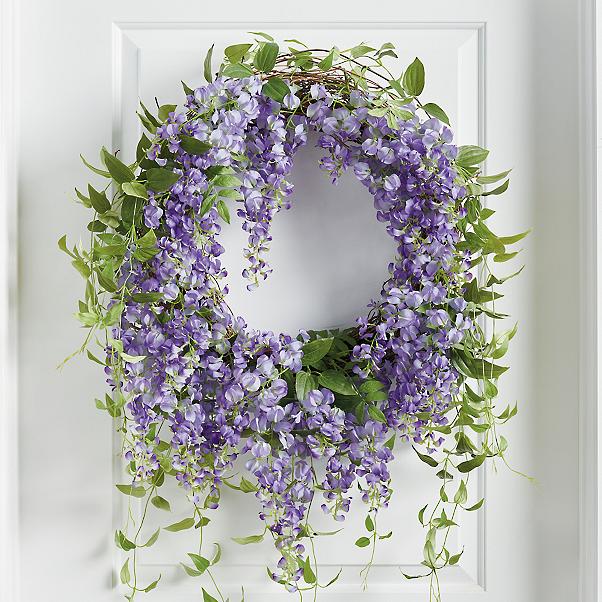 By combining different types of foliage varieties, you can create a hanging wreath that is visually captivating and brings a sense of relaxation to any space. Remember, wreaths are more than just a winter holiday decoration. Consider creating wreaths for everyday use that embrace popular modern-day trends like rustic and aesthetic designs, as well as holidays and events like Thanksgiving, Halloween, weddings and more. Experiment with the following suggested combinations and incorporate additional decorative elements like flowers, ribbons or small ornaments to enhance and customize your design.
Maidenhair Fern: Delicate and feathery, the fronds of the maidenhair fern bring a touch of elegance and whimsy to any wreath. Their light and airy appearance can help you create a graceful and ethereal vibe throughout your design.
Asparagus Fern:  This delicate and cascading foliage is perfect for adding a whimsical and romantic feel to your wreaths. The lacy-looking foliage creates a beautiful texture and adds a sense of loose movement to the arrangement.
Leatherleaf Fern: Known for its sturdy and leathery fronds, leatherleaf is a classic choice for the base of a charming wreath. Its vibrant green color and long-lasting nature make it a great choice for both the wreaths' structure and visual appeal.
Sword Fern: This stunning foliage features elongated, lance-shaped fronds, a vibrant green color and graceful arching, making it a perfect choice for adding a touch of elegance and sophistication to a whimsical wreath. The sword fern's glossy texture and striking shape can bring a sense of ethereal beauty to your wreath designs while also serving as a captivating focal point.
Ruscus: Also known as butcher's broom, ruscus features unique, elongated leaves that resemble tiny lance-like spears. It's dark green foliage can provide an interesting contrast and add a touch of texture to your wreath design.
2. Stunning Foliage Archways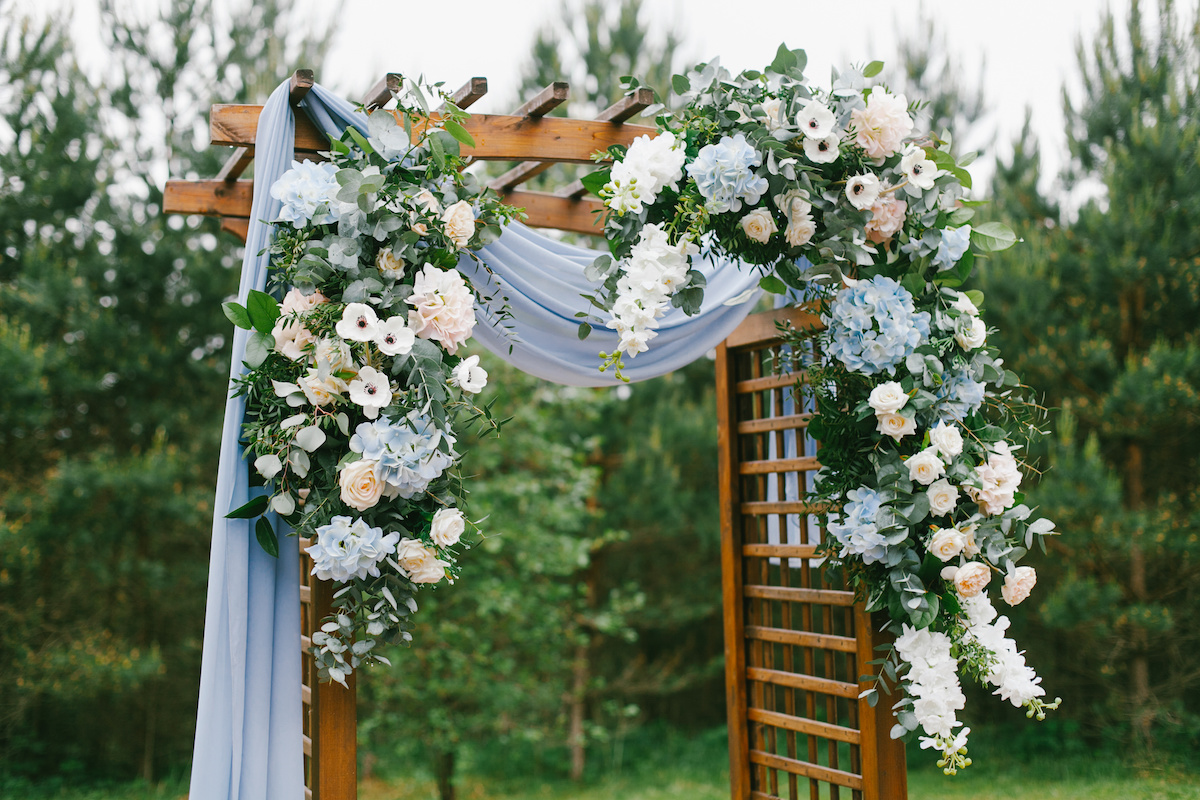 An archway adorned with foliage makes for a stunning structure that will instantly catch the eyes of your customers. It creates a breathtaking display that merges the allure of the well-known architectural archway design with the ethereal elegance of hanging foliage. By incorporating greenery into your archway designs, you can craft awe-inspiring pieces that allow your customers to transform their space into a magical and tranquil setting.
Ming Fern: Add a graceful touch to any archway with Ming fern's lacy fronds and delicate nature. This foliage can help you add an airy touch to any arrangement or design, and its feathery texture is perfect for crafting a free-flowing and elegant look.
Plumosus Fern: This fern is known as lace fern for a reason — its soft, feathery foliage adds a delicate and whimsical element to floral designs thanks to its cascading branches and ethereal effect when suspended in the air.
Roebellini: This palm foliage features slender stems with delicate and feathery fronds. When suspended, roebellini can add a graceful element to your design, evoking a calming and charming feeling. 
Bear Grass: As the name implies, bear grass features long, skinny blades that offer a unique element to add to your archway designs. Its wiry texture and flexibility make it a great option to feature in a whimsical and free-flowing archway.
3. Suspended Foliage Centerpieces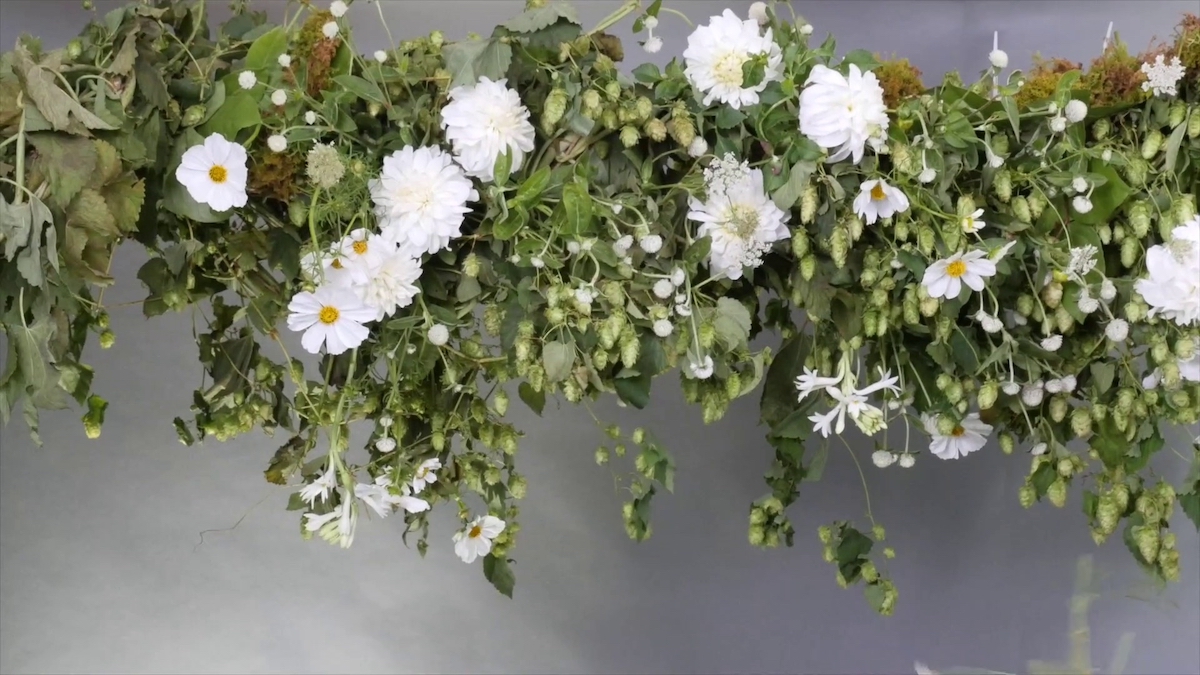 Incorporating the right foliage in your suspended centerpiece designs can help create a peaceful and calming atmosphere in any space. Consider using these types of greenery in your hanging designs to give your customers the feeling of being in a relaxing oasis.
Tree Fern: This type of foliage has fronds that gracefully arch and add a touch of elegance to hanging installations. The feather-like texture of the foliage creates a lush and tropical atmosphere, making it perfect for creating a captivating focal point.
Cocculus: With its delicate vines and intricately patterned leaves, cocculus adds an element of enchantment to any suspended arrangement. This unique foliage features a mesmerizing blend of greens, creating a visually stunning display. Because the vines of cocculus cascade and drape, this foliage is great for infusing your suspended centerpiece designs with natural elegance. 
Podocarpus Macrophylla: This foliage is the perfect choice for adding depth and texture to a suspended centerpiece. Whether used as a standalone centerpiece or combined with other botanical elements, Podocarpus macrophylla can elevate your hanging designs, infusing them with a sense of awe-inspiring beauty and creating a soothing feel in any space.
Sago Palm: The striking, feather-like fronds of the sago palm are great for creating a mesmerizing display that gracefully arches and cascades. Its deep green color and symmetrical leaflets bring a sense of symmetry and can help bring balance to your suspended centerpiece, while its robust and resilient nature ensures long-lasting beauty for your customers.
Create Your Own Masterpiece with Alpha Fern's Diverse Variety of Floral Foliage
At Alpha Fern, our commitment lies in providing top-quality foliage to floral designers and wholesalers worldwide. With a diverse selection of over 50 floral greens, we offer an extensive range of choices to assist you in crafting floral arrangements tailored to any occasion. 
Whether you're creating designs for weddings, events or everyday moments, our foliage collection offers greenery you can use to perfectly harmonize with your florals and breathe life into your artistic vision. Shop our selection today and discover the beauty and versatility of our filler foliage so you can guarantee your customers will adore your arrangements.