Summer is here and it's time to turn up the heat on your floral designs! What better way to do
that than by incorporating the vibrant colors and unique textures of tropical flowers and greenery? With the warm weather comes an abundance of events, from weddings and corporate functions to restaurants and hotels looking to add a touch of the tropics to their decor.
Whether you're creating custom arrangements for a beach wedding, adding a touch of tropical flair to a corporate event or designing table arrangements for a chic restaurant, here is some inspiration, as well as tips and tricks for creating stunning tropical floral arrangements for summer.
Why Use Tropical Flowers and Greenery in Summer Arrangements?
The combination of vibrant, bold colors and the unique textures of tropical plants can add a dramatic and dimensional effect to a centerpiece or bouquet. But one of the biggest advantages of incorporating tropical greenery and florals in your summer designs is their ability to withstand heat and humidity. Unlike some delicate flowers that wilt and droop in the summer heat, tropical plants can stay fresh and vibrant for longer, making them a practical choice for outdoor events and other hot summer occasions.
Some of the tropical greenery and floral favorites that can help create a festive and joyful atmosphere at any summer event include:
Tips and Tricks for Designing Tropical Floral Arrangements for Summer
Complement the Occasion or Setting With a Suitable Color Scheme
Color is a powerful tool for creating mood and atmosphere. When designing tropical floral arrangements for summer, choosing a color scheme that complements the occasion or setting where your arrangement will be displayed is essential.
For a beach wedding, for example, you might choose a color scheme incorporating blues, greens and sandy neutrals to create a calming and relaxed beachy atmosphere. Alternatively, for a sophisticated corporate event, you may choose a more refined palette of pinks, oranges and yellows to create a chic tropical ambiance.
When selecting your color scheme, it's important to consider the other elements present at the event, such as the venue decor, lighting and other design elements. You want your tropical floral arrangement to complement and enhance the event's overall aesthetic rather than compete with it.
Mix and Match Different Textures and Shapes
One of the key advantages of using tropical flowers and greenery in your summer floral arrangements is the wide variety of textures and shapes they offer. Mixing and matching different textures and forms allows you to create a visually appealing arrangement that captures the essence of the season.
For example, you might use the broad, glossy leaves of Fatsia japonica as a backdrop for delicate and elegant orchid blooms, creating a romantic and dreamy atmosphere. Alternatively, pair torch ginger's bold and colorful blooms with the smooth, dark green foliage of the cast iron plant to create a dramatic and decidedly exotic display.
Avoid using too many different textures and shapes that can create a cluttered or chaotic effect. You want to create a harmonious balance of elements that draw the eye in and create a cohesive and visually appealing display.
Choose Containers That Enhance the Tropical Vibe
The container you choose for your tropical floral arrangement can be just as important as the flowers and greenery themselves. The warm tones and earthy textures of bamboo or wooden boxes can add to the tropical vibe and create a cohesive theme. Similarly, woven baskets can add a touch of bohemian flair to your tropical arrangement and complement the natural texture of tropical flowers and greenery.
Consider selecting a container that complements the color scheme of your arrangement and adds to the overall aesthetic. Colorful ceramic pots are also an excellent option for creating a tropical vibe. These containers' bright and bold colors can add a pop of color and create a festive atmosphere.
Incorporate Other Natural Elements
In addition to tropical flowers and greenery, you can further enhance the tropical ambiance of your summer floral arrangements by incorporating other natural elements. For example, you can incorporate seashells, sand or driftwood into your arrangement to create a beachy feel. These elements can add texture and depth to your design and create a cohesive beachy theme.
Seashells can be used in a variety of ways, such as filling the bottom of a glass vase, scattering them throughout your arrangement or even gluing them to a container to create a unique beachy look. Sand can be used as a base for your arrangement or as a decorative element around the base of your container. Similarly, driftwood can add a natural and rustic touch to your tropical arrangement.
Remember to use these natural elements sparingly and with intention. You don't want to overcrowd your arrangement with too many features or distract from the beauty of your tropical flowers and greenery. Rather, use these elements to accent your design and enhance its overall aesthetic.
Tropical Floral Arrangements for Summer Events
Summer Weddings
For beach or tropical-themed weddings, tropical flowers and greenery can create stunning centerpieces and bouquets. Consider using a mix of large tropical leaves like selloum and palmetto fans combined with vibrant blooms like plumeria, hibiscus and flowering ginger to add a touch of paradise to any wedding ceremony or reception.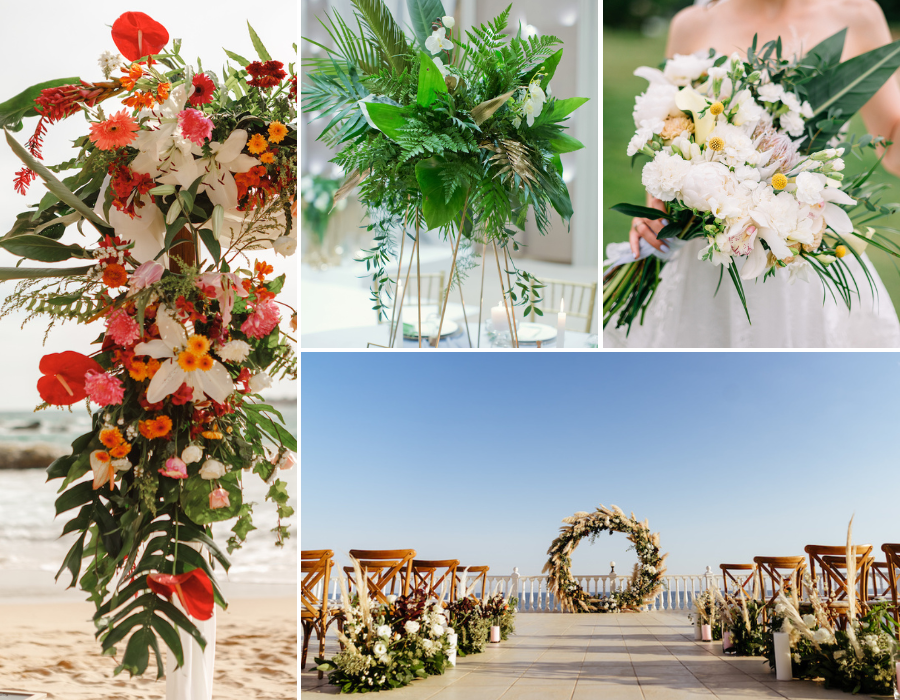 Corporate Events
Revamping reception areas and conference rooms with tropical touches can create an invigorating and stylish ambiance for corporate events. Paired with bright blooms, xanadu's lush leaves and Podocarpus nagi's slender foliage are great options to add an exotic element to welcome desks and breakout areas. For a more subtle touch, try incorporating lemon leaf salal or calathea in smaller arrangements on cocktail tables and reception areas.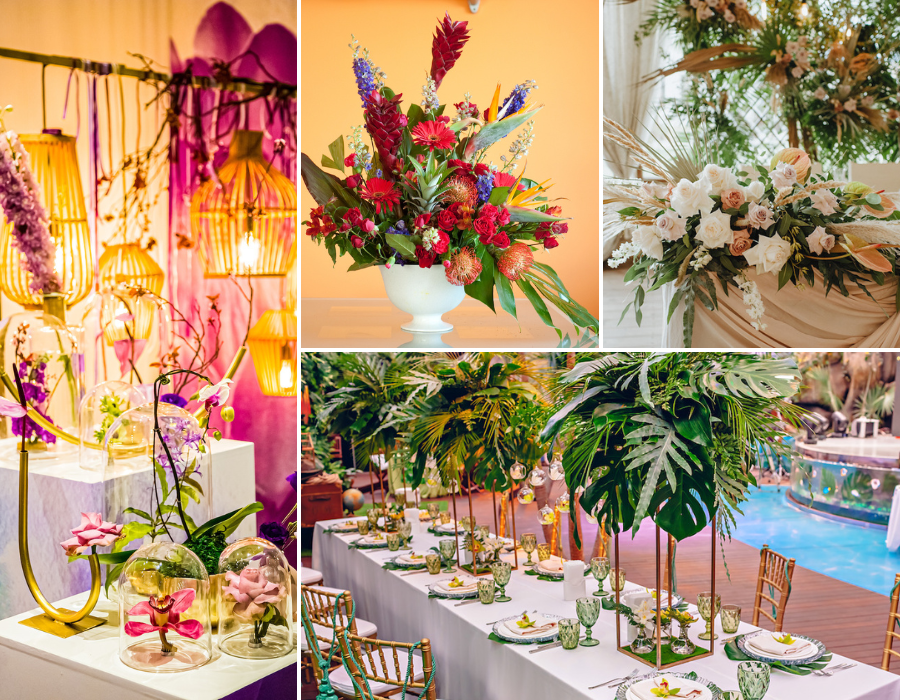 Hotels and Resorts
To create a luxurious and exotic ambiance for hotels and resorts, try incorporating tropical foliage like multicolored croton leaves or elegant Podocarpus macrophylla into arrangements in guest rooms and common areas. While larger arrangements are well-suited to hotel lobbies and guest rooms, smaller and more intimate displays like unique table centerpieces and bar displays can create a cozy and inviting atmosphere. Let your creativity guide you as you experiment with different combinations of tropical flowers and foliage.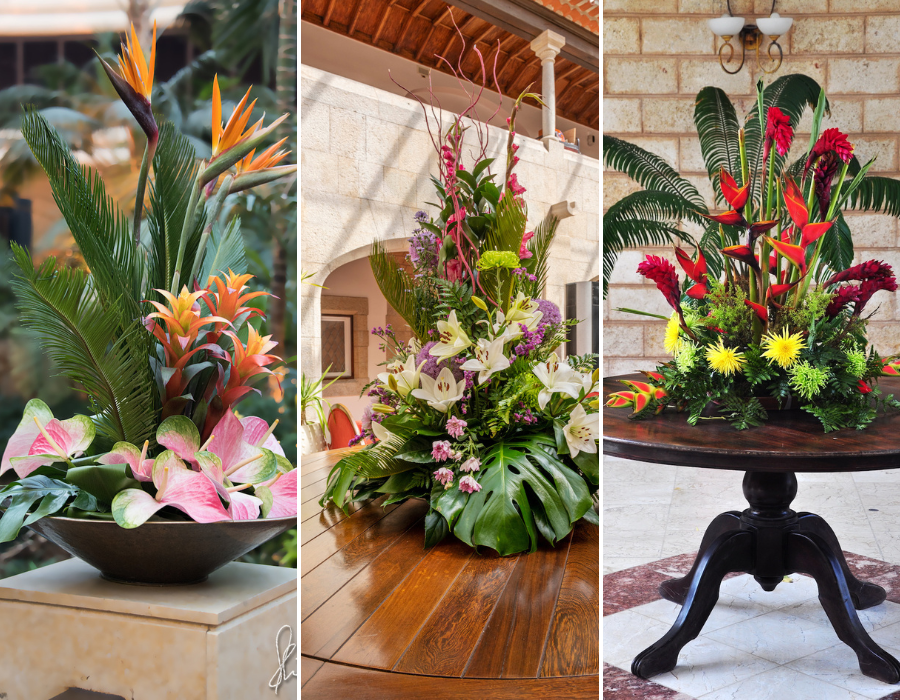 As a family-owned company, Alpha Fern prides itself on delivering high-quality tropical foliage to floral designers worldwide. With over 50 different varieties of floral greens grown and harvested by our team in Florida, we never stop searching for new varieties to add to our collection. With our diverse selection of pre-greened products, you can create beautiful arrangements that are perfect for all seasons.
Whether you're looking to create an arrangement for a special event or a seasonal display, we have the perfect greenery to complement any florals and bring your vision to life. At Alpha Fern, we're committed to providing exceptional customer service and top-quality products that meet the unique needs of our customers. Browse our collection today and discover the beauty and versatility of tropical greenery for yourself!