Using fresh pine to create your own Christmas wreath is one way to add a wonderful aroma and a special touch of holiday festivities to your home. You can learn how to make a fresh Christmas wreath following our simple directions and using fresh pine branches from Alpha Fern Company. When you are finished, you'll have a beautiful advent wreath to hang on your door, your porch, or any other place that needs some Christmas cheer. A homemade Christmas wreath is also a wonderful gift to give a friend, family member, or neighbor.
Why Make a Fresh Christmas Wreath?
Fresh wreaths made with real pine look beautiful and smell great. Making your own ensures you get the unique Christmas wreath you have always wanted. Plus, it's fun to make a Christmas wreath! Try it yourself. You might never go back to buying a wreath from a store.
Ready? Let's Go!
How to make a Christmas wreath with fresh pine:
Step One: Gather your materials.
You will need:
Fresh pine boughs

A wreath form (a 12-in. wreath form from a craft store is a good size for a regular-width door)

Green floral wire

Wire cutters

Gardening gloves

Decorations, such as pine cones, berries, ribbon, twine, etc.
Step Two: Cut Pine Boughs.
Put on your gardening gloves, and use the wire cutters (or another type of cutter) to snip the fresh pine boughs to the right length for your wreath form. Plan for the boughs to overlap each other at an angle. They should also hang over the form a few inches.
If you are using a 12-in. wreath form, the pine boughs will probably look best cut somewhere between 6 and 12 inches. 
Step Three: Position Pine Boughs.
Place a single pine bough at an angle on your wreath form. Twist some floral wire around the bough and part of the form to secure it tightly. Place another pine bough at an angle, overlapping the bottom part of the first bough. Secure it tightly to the form with the wire.
Continue to overlap and secure boughs to the form until you have completed the circle. They should all be going the same direction. The final bough will have to be tucked under the top of the first bough.
This is the base of the wreath. It's okay if some of your wreath form still shows through. We'll cover it up in the next steps.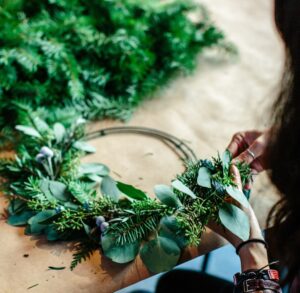 Step Four: Fill In the Spaces.
Evaluate your wreath. Does it need more pine boughs to fill it out? If so, then tuck the additional boughs into the form, always making sure they are going the same direction as the rest of them.
Now you are ready for the wreath embellishments. Be creative with the items you use in your Christmas wreath. Here are some ideas:
Ribbon woven through the pine boughs as it is wrapped around the wreath

Big red bow

Small bows scattered throughout the wreath

Real twigs with berries and greenery stuck into the boughs

Other types of greenery, such as holly, boxwood, laurel, cypress, or magnolia

Pinecones

Herbs, fresh or dried, such as sage, lavender, and rosemary

Twine wrapped around the wreath or tied into bows

Fresh or artificial flowers

Tiny gift-wrapped boxes

Bells

Christmas ornaments

Elf figurines

Little signs with appropriate messages, such as "Merry Christmas" or "Have a Holly Jolly Holiday"
You can make your Christmas wreath as simple or extravagant as you like! A plain evergreen wreath provides a simple, elegant touch to any home. You may want to try alternating pine boughs and a broad leaf plant, such as magnolia. Putting a feathery fern in the wreath adds a nice texture contrast to the prickly pine needles. Experiment with different ideas, feel free to take out something that doesn't look right, and keep working at it until you have a beautiful wreath that you can be proud of.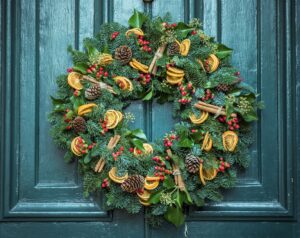 Step Five: Final Touches.
This is the step for straightening everything out to the perfect angle, tightening loose pieces with a little extra wire, and snipping the wire ends off with the wire cutter. 
If you are going to hang your wreath on a nail or hook, then you probably don't need anything else.
Here are some ideas for how to hang a wreath when you don't have a nail or hook handy:
Buy a wreath hanger.

This is an S-shaped piece of plastic or metal that hooks over the top of a door without using any attachments. The wreath hangs on the bottom.

Double-sided tape or adhesive strips.

If the wreath is light enough, you may be able to attach it to the door with double-sided adhesive strips.

Suction cups.

If you want to hang a light wreath on glass, you can try using an extra-strength suction cup, or possibly more than one.

Magnetic hooks.

If you have a metal door, a magnetic hook could work.

Use the knocker or door handle.

If you really have no other options, you can hang your wreath on a door knocker or even the door handle, especially if it is a door that doesn't get used very often.
Learning how to make a fresh Christmas wreath from scratch is a fun skill. You will probably enjoy the process so much, you will want to make another one! Check out Alpha Fern's tips on how to decorate a fresh Christmas wreath as well as this post about keeping a live wreath fresh.
Here at Alpha Fern Company, we provide all our clients with high-quality foliage, from fresh pine boughs for your Christmas wreath to lengths of ivy or olive branches for a different type of wreath or decoration. Our customer service is the best in the industry, so feel free to contact us about your greenery needs.
If you are hosting a Christmas event and are interested in partnering with Alpha Fern Company, we have great offers on fresh holiday garlands and pre-made wreaths. Create an account with us and learn for yourself the high quality of all our products! We are passionate about giving all our clients the customer service they deserve, fast delivery, and a wide range of foliage solutions.